About
By Gavin Dudeney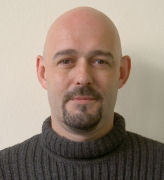 I have worked in education for the past 21 years, as a teacher, materials developer, IT manager and web/user interface designer. Before that I had various incarnations as a stand-up comedian, dating agency IT expert, advertising designer. My blend of pedagogical and technical skills has taken me around the world – primarily for the British Council, but also for the International House World Organisation and other entities – helping them to bridge the gap between their training and teaching portfolio and their technical needs.
Until the end of 2003 I held two posts: the first as Head of the New Technologies Department at International House Barcelona and the second as Lead Developer for the online training centre Net Languages. In 2003 I set up The Consultants-E with Nicky Hockly. I am a past coordinator of the IATEFL Learning Technologies Special Interest Group and also past editor of the SIG newsletter. In 2007 I was elected Honorary Secretary of IATEFL.
Publications include: "The Internet & The Language Classroom" (CUP 2000, 2007), "How to Teach English with Technology" (Longman 2007, with Nicky Hockly – winner of the International House Ben Warren Award 2008) and "Blended Learning" (DELTA, forthcoming with Nicky Hockly and Lindsay Clandfield). I am also writing a chapter for a forthcoming book on Second Life in further and higher education, with Howard Ramsay.
My company (www.theconsultants-e.com) works primarily in online teacher development and training and our Cert ICT course won a British Council ELTON in 2007. Among our other courses we also offer the only online Cert IBET course. When not working on all that, I look after our three islands in Second Life and spend time building and scripting for the education community – our Second Life project EduCation@EduNation was shortlisted for a 2009 British Council ELTON award.
You can follow my blog at: http://slife.dudeney.com.
NOTE: All views expressed here are my own personal views and not the views or opinions of my company (and employer), The Consultants-E. This is a personal blog detailing thoughts on Second Life, my professional life and other subjects and is not to be confused with the Consultants-E corporate site or any of the content therein. If you find something on this blog that you do not agree with, please contact me directly.